Accredited Contractors for HVAC Repair in Jenison, MI
Valley City Mechanical is a leading company offering comprehensive solutions, water heater services, gas line repair, installations, and HVAC repair in Jenison, MI. To enhance your indoor comfort, call our experienced and efficiently trained technicians near you to get our unrivaled services.
Having an expert HVAC contractor deal with your HVAC issues will benefit you a lot. First, it will save you a lot of money since the work will be done for the first time in the right way, without requiring additional services. Secondly, our contractors have the proper training and expertise in this area; therefore, we will quickly identify and diagnose your specific issues.
Rest assured that our HVAC services utilize the required tools to perform reliable work. They have diagnostic as well as specialized parts tools, meaning no room for messing up your system, and if a mistake happens, we will compensate you since we are all insured.
Benefits of Regular HVAC Maintenance
With the heat and humidity in Jenison, MI, you need a functional system. You can make sure that your system is in tip-top shape by having it checked regularly by our experts. Regular HVAC maintenance will help in minimizing repairs in the future. This is because the professional technician will spot and correct upcoming issues immediately.
Additionally, maintaining your HVAC system will improve its functionality. A well-functioning unit will tremendously lower your utility bills. During maintenance, your technician will clean and change your air filter and other parts. This way, your system will stay functional as it should be, minimizing your monthly bills.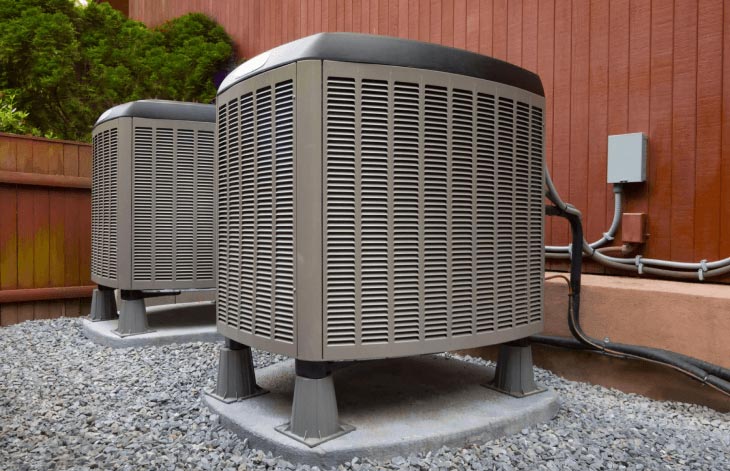 Most Common HVAC Problems
Your HVAC unit may lose efficiency, causing a sudden increase in your heating and cooling expenses. Dirty filters, coils, ductwork, thermostat issues, Tripping circuit breakers, continuous running of the blower motor, and refrigerant leaks, among other causes, will make your system become overworked, leading to a spike in your monthly energy bill.
Clogged drain pipes are also among the common HVAC problems. These are responsible for moving away the condensate, which happens to be the byproduct of heating and cooling. If these pipes are clogged, your home will leak and have musty odors. If you suspect any issue with your unit and need HVAC installation or a simple repair, our Valley City Mechanical experts are ready to serve you.
Signs You Need HVAC Repair or Replacement
Your HVAC unit is part and parcel of your commercial property. Naturally, the system needs to function well for you to enjoy your stay. However, this may not happen if your system develops some issues. Here are the indications that your system has problems and you need our HVAC company to repair or replace the entire system:
Change in airflow

Increased energy bill

Your HVAC unit is over ten years

Excess moisture in your home

Unusual noises coming from your system

Frequent repairs on your system

Your system keeps on turning on and off
Reach Out to Our HVAC Contractors
Valley City Mechanical should be your first choice whenever you have issues with your HVAC unit. Once you call us, we respond on time, diagnose the problem, and apply our 120+ years of industry experience to fix the problem using the most appropriate method.
For HVAC installation, repair, or replacement, hire Valley City Mechanical. Call us or fill out our form today to schedule your appointment. We also provide: